What are the Best AI Resume Builders Available in 2023
What's the best way to stand out in today's job market? One way is to use an AI resume builder to create a resume that highlights your skills and experience. But with so many different AI resume builders available, it can be hard to know which one to choose. That's why we've put together a list of the best AI resume builders available in 2023, along with information on how each one works and what benefits they offer.
With this information, you can make an informed decision about which AI resume builder is right for you. So, whether you're looking for a simple way to create a CV or want to find a tool that will help you get noticed by employers, read on to find the perfect AI resume builder for your needs.
Don't forget to submit your cv on our Jobseekers page once it is finalised.
AI Resume Builders 2023
1. Resume Builder AI
This resume builder uses machine learning and natural language processing to create a unique, AI-driven resume tailored to your desired job role. It also offers pre-written content suggestions that you can use in your resume as well as helpful tips on how to make the most of your skills and experiences. You can even upload a photo for extra personalization.
2. Job Hunter
With this AI resume builder, you can create resumes designed for specific job roles with the help of prescriptive analytics. The tool provides insights on how to optimize keywords throughout your CV, as well as real-time feedback from career experts so you know if it's ready for submission or needs further editing.
3. Jobscan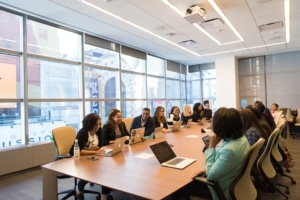 Jobscan is a popular AI resume builder that stands out thanks to its unique feature of scanning a resume against a job description, allowing jobseekers to see a detailed report and uncover how their skills and experience are being matched. AI technology is a great tool when drafting a resume as it can help identify relevant keywords and phrases to enhance a person's chances of having a successful job hunt. In addition, the human-reviewing system comes with built-in artificial intelligence metrics, such as a score out of 100 percentage points by analysing how suitable the person's skill set is for particular job requirements. With an intuitive user interface and comprehensive features designed to make the process of creating an excellent resume easy and fast, Jobscan is one of the top AI resume builders on the market today.
4. Resunate 
Resunate is a cutting-edge AI resume builder that makes creating a professional resume a breeze. With a simple user interface and a few key details, the platform will automatically generate a well-formatted, optimized resume tailored to any job application you desire. This easy-to-use platform allows you to customize your own unique resume with just a few clicks, making it an ideal tool for job seekers of all levels. Resunate helps personalize each resume with powerful keywords and phrases like "attention to detail" or "collaborative environment." Its goal is to ensure that you have the best chance possible at landing the job that's perfect for you. Thanks to its state-of-the-art AI system, Resunate can identify and fulfil the exact needs of the employer in your final product. With features like direct competition tracking, targeted real-time feedback and cover letter creation tools, this ai resume builder has everything modern job seekers need to put their best foot forward in the competitive job market.
5. Enhancv
Enhancv is a modern ai resume builder that helps you to stand out from the competition by creating a resume that expresses your personality and individual strength. It has a wide range of templates to choose from, an easy-to-fill skills section and a clean interactive design. With Visual CV, you can instantly see what every line in your resume looks like, with a side-by-side comparison of different fonts, colours and styles. Another advantage of Enhancv is its easy chatbot integration which helps you to create a fully automated AI-powered resume in minutes. For those looking for a professional look, there are several customization options available including a helpful video feature which allows you to record a 30-second introduction video to accompany your resume. Enhancv is the perfect user-friendly platform for creating a high-quality, modern and professional AI resume builder.
6. Kickresume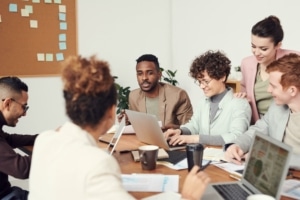 The ai-powered resume builder Kickresume makes it easier than ever to create a professional, customized resume. It offers a variety of designer-made templates, a drag-and-drop editor, a detailed log of changes made to a CV and a one-click design feature. It also helps optimize resumes for recruiters by combining a range of AI tools such as spell checkers, AI text analysis, natural language processing and style guides to produce an impressive CV quickly and expertly. As a unique feature, Kickresume allows users to upload a video introduction as an alternative to traditional job submissions. This customizable video will give employers a deeper understanding of the job seeker's personality and skills. Overall, Kickresume is a great option for those looking to improve their professional credentials in a short amount of time.
7. Rezscore
Rezscore is a cutting-edge AI resume builder that takes all of the stress and guesswork out of constructing a professional resume. It offers a comprehensive list of features to help you create a stand-out document without spending hours editing it. Rezscore quickly scans existing documents and makes intelligent suggestions, helping find the exact combination of words and phrases that will best present your skills and experience. You can adjust fonts, colours, and layouts easily with a few clicks. With feedback modules to ensure all your resumes are error-free and recruiter-ready, using Rezscore is a sure-fire way to ensure maximum job search success.
8. Resumonk
Resumonk is a top-of-the-line ai resume builder, helps you create a unique and professional document tailored to your needs. This easy-to-use platform walks you through the entire resume-building process with a variety of customizable options. You can choose a style for your resume using their vast array of templates – each template has a corresponding cover letter template as well, so you can make sure your package looks perfect! In just a few clicks you have a complete application that faithfully represents your best work and qualifications. It even suggests improvements as you go – talk about an intuitive user experience! So, if you're looking for an ai resume builder to take your job search to the next level, Resumonk is worth a try!
9. Plato
One more resume platform worth mentioning is Plato AI Resume Builder. It offers a unique approach to resume building. With this platform, you can create an entirely new resume or update one you already have. This AI-based platform uses natural language processing to determine what words should be used in your resume and also provides real-time feedback on the effectiveness of your document once it's completed. It's a great option for creating standout resumes quickly and efficiently.
10. Autocompose
With this platform, you can get a resume tailored to your specific needs. The AI-based platform searches through LinkedIn profiles and job postings to ensure that the content in your résumé aligns with what hiring managers are looking for. Additionally, it offers feedback on areas of improvement such as word choice, grammar, and formatting
So, if you're looking to create a truly exceptional resume that will stand out from the crowd, consider using an AI resume builder. This technology makes it easier than ever to get your qualifications noticed by employers and to land the job of your dreams. Don't miss this opportunity to take your company's growth to new heights – contact us today and start leveraging the power of MASA's staffing solutions!