Best Comprehensive Guide to Creating an Impactful CV
Refreshing your CV is like giving yourself a makeover. It is an opportunity to showcase the best version of you, emphasizing the skills and experience that are most relevant to the job you're applying for.
When employers review your CV, they want to see someone who has taken the time to curate their career history so they can quickly identify key pieces of information. We have compiled some tips and best practices to creating an impactful CV that stands out among the rest.
Your CV should include the following key sections:
Contact information: Include your name, phone number, and email address at the top of your CV.
Summary or objective: Provide a brief introduction to yourself in this section, such as highlighting your skills, experience, and qualifications that are relevant to the role you are applying for.
Work experience and/or education history: This is where you list any relevant jobs and/or educational qualifications you have that are related to the position being applied for.
Skills and interests: Mention any technical or non-technical skills that could be beneficial to employers when considering you for a role, as well as outline any hobbies/interests that could give recruiters an insight into who you are outside of your professional life.
References: Listing references from previous employers or academic colleagues can help demonstrate your track record of success and trustworthiness with potential employers.
10 Tips for Writing a Professional CV:
Easy to read. First, be sure to make your resume accessible and easy to read. Break down long sentences into shorter phrases, use bullet points where possible, and ensure all headings are clear and concise.
Next, highlight essential skills and accomplishments in a way that demonstrates your strengths and value to employers.
Make sure the information is accurate and up to date, as any outdated or incorrect information on your CV will reflect poorly on you. Many job applicants focus on only updating their CVs with the latest experience and qualifications and fail to review the information already listed.
Include keywords that are relevant to the role you're applying for, as recruiters often use these words to narrow down their selection of potential candidates.
Easy structure: Make sure the structure of your CV is logical and easy for employers to read. Include only relevant information that highlights your expertise in the position you are applying for.
Let your experience shine: Your CV should reflect the skills and knowledge you've acquired from previous experiences. Highlight any special projects or initiatives that you have been involved in, as well as any awards or achievements you may have earned.
Tailor for each role: Each role requires its unique blend of skills and qualifications. Make sure to tailor your CV accordingly to highlight the experience and qualifications that are most relevant to the job you are applying for.
Keep it concise: Avoid long-winded descriptions and make sure that only relevant information is included in your CV. It should be clear, brief and easy to read – no more than two pages if possible.
Pay special attention to keywords when crafting your CV so that it stands out from other applications. Use buzzwords related to your industry field. Employers often use recruitment software to scan CVs for keywords related to particular roles and responsibilities, so ensure that these words appear throughout your copy to be noticed by potential employers.
Check for errors: Finally, it's important to proofread your CV for errors before sending out applications – typos can be a deal breaker! Be sure to get a second opinion from a trusted source before submitting your CV, as even small mistakes can cost you an opportunity at the job you're applying for!
Ensure that your CV is saved in the correct format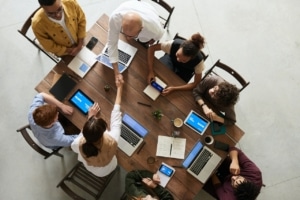 Some job boards or job registration platforms require specific formats for CV submissions. Make sure that you save your CV in the required format and also check if there are any file size restrictions before submitting it.
The most common CV formats are PDF and Microsoft Word. Both of these formats are widely accepted by employers, so you can choose the one that best suits your needs.  In addition to this, also consider including a link to your LinkedIn profile or portfolio website on your CV if it contains additional information that could help you stand out from other applicants.
The Cover Letter
Don't forget to include a professional cover letter with each application you submit. It should be concise, highlighting your key skills and qualifications, and give employers an insight into why you're the ideal candidate for the role.
A cover letter should also demonstrate your enthusiasm and interest in the specific role you're applying for. If possible, include a customized message that shows you've done your research on the company and why you think you'd be an asset to their team. In addition, the cover letter may contain a summarised list of references and refer to the detailed version in the CV.
Next steps to landing your Dream Job
Ready to take the next step in landing your dream job? Uploading your updated CV to MASA's jobseekers page is a great place to start! Reach out to potential employers and stand out from the crowd. Don't wait any longer – submit your CV today on MASA's jobseekers page and start applying for your dream job now! Don't miss this opportunity to take your company's growth to new heights – contact us today and start leveraging the power of MASA's staffing solutions!