Staffing Solutions for SMEs: What You Need to Know
Managing your workforce is likely one of your top priorities as an SME owner. Staffing solutions can be valuable for finding, hiring and managing employees, especially if you don't have in-house resources or expertise.
Even though the number of small and medium-sized enterprises (SMEs) has grown more slowly than the economy over the past ten years, their share of South Africa's gross value-added (GVA) has gone from 18% in 2010 to 40% in 2020. This increase shows how important SMEs are to the South African economy and how important it is for them to have the right tools and resources to be successful.
But with so many staffing agencies to choose from, how do you find the best fit for your business? This blog will look at various staffing options and how small and medium-sized businesses can leverage the most optimal solution for their needs.
Exploring staffing solutions
First, it's essential to understand the different staffing solutions available. There are temporary staffing agencies, which provide workers for short-term or temporary positions, and permanent staffing agencies, which help businesses fill full-time roles. Both types of agencies can be helpful for SMEs, depending on your needs.
Temporary staffing solutions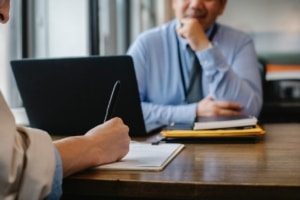 Temporary staffing agencies can be a good solution if you have a project with a specific end date or need to fill in for an employee on leave. These agencies typically handle all aspects of employment, including payroll, benefits, and HR, so you don't have to worry about those details. This can be especially useful for SMEs needing a dedicated HR team or the resources to handle these tasks internally.
Another vital benefit of temporary staffing agencies is the flexibility they provide employers to manage their staff. Businesses can quickly and easily adjust their workforce according to the needs of their organisation without having to make long-term commitments or invest in costly recruitment processes. 
For example, some businesses may need to hire staff during peak demand seasons. This would allow them to reduce their staffing costs in the quieter months while still having access to the necessary personnel when demand rises. This flexibility also means that businesses can be agile and responsive to changes in the market without compromising on the quality of their workforce.
Permanent staffing solutions
On the other hand, permanent staffing agencies can be useful if you have a long-term staffing need or need more time or resources to handle the recruitment process yourself. These agencies can help you find qualified candidates and manage the hiring process, so you can focus on running your business. This can be especially helpful for small and medium-sized enterprises (SMEs) that may need more time or skills to put into the hiring process.
Recruitment can be a time-intensive, expensive, and challenging task, especially for SMEs that lack the resources to screen candidates properly and navigate the job market. Permanent staffing agencies can help a lot in this area by assisting employers in finding qualified candidates through large CV databases and networks based on location. They can also help with the whole hiring process, from posting the job to negotiating the salary and everything in between. 
Finding the right staffing agency
When looking for a staffing agency, there are a few key factors to consider. 
Solid track record
First and foremost, you want to find an agency with a good reputation. Look for an agency with a proven track record of placing quality candidates, and consider seeking recommendations from other business owners.
Agency specialities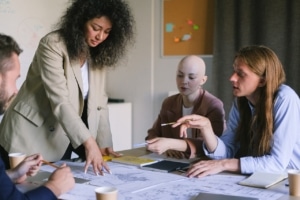 It's also important to consider the types of positions the agency specialises in. Some agencies may have more experience in specific industries or job functions, so it's worth asking about their expertise in your field. This can help ensure that you find an agency with the knowledge and resources to meet your specific staffing needs.
For example, an agency may specialise in blue- or white-collar recruitment, meaning they can provide access to a wide range of staff for higher- and lower-skilled roles. Others may focus on technical positions, offering a range of jobs in engineering, healthcare, or technology.
It is essential to consider whether the agency can provide additional services such as background checks, which they can use to verify a candidate's qualifications or work history. Also, look for an agency that can offer ongoing support and guidance, such as training and onboarding, which can make the recruitment process more streamlined and successful. 
Fees and contracts
Another essential factor to consider is the agency's fees and contracts. Be sure to thoroughly read and understand any contracts or agreements before signing them, and ask about any hidden fees that may not be immediately apparent. It's essential to clearly understand the costs associated with using a staffing agency so that you can budget accordingly. 
Management practises
Finally, feel free to ask about the agency's HR and management practices. A good staffing agency should be able to provide clear communication and support for both its clients and employees. This can help ensure a smooth and positive experience for everyone involved.
For example, ask questions about their onboarding and offboarding processes, how they handle workplace issues, and how often they provide feedback and performance reviews. Knowing these details can help you understand their policies, procedures, and values and give you confidence that your organisation is working with a reliable and professional staffing agency.
Conclusion
Staffing solutions can be a valuable tool for SMEs looking to find and manage their workforce.
When choosing a staffing agency, take the time to research and ask questions to ensure you are partnering with an organisation that meets your company's needs and values. By considering factors such as reputation, specialisation, fees, contracts, and HR practices, you can find the right staffing agency for your business.
Join forces with MASA
There are many agencies to consider when it comes to staffing solutions for SMEs in South Africa. However, MASA is a leading agency that stands out for its strong reputation and focuses on providing top-quality candidates and support.
MASA understands the unique challenges SMEs face and tailors its services to meet their specific needs. This allows you to maximise your recruitment ROI with the help of various cutting-edge solutions that MASA provides, delivering the best return on your investment.