Guide to Improving Truck Route Planning
Planning a truck route can be a tedious process. It can be even harder to plan and optimise routes if you do it manually, especially when heavy workloads and many delivery drivers and destinations are involved.
There are multiple factors to consider when planning a truck route, and a lot can go wrong if you do not account for even one of them in your route planning. This guide explores the factors affecting truck route planning and what your company should consider in planning its trucking routes effectively.
Truck Delivery Considerations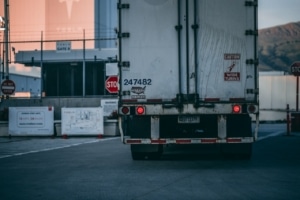 In recent years, the demand for truck deliveries has increased substantially with the increased popularity of e-commerce. Many trucking companies and businesses have strategised new approaches to managing deliveries to reduce traffic delays and the potential for crashes while maintaining fast delivery times and lowering the cost of delivery. 
These strategies include:
Making deliveries during off-peak or nighttime hours

Reducing the number of miles that a truck travels by consolidating deliveries

Picking up from warehouses rather than making individual deliveries

Using GPS and route tracking systems to plan routes that reduce traffic congestion

Creating separate delivery schedules for holidays
As mentioned before, there are multiple challenges associated with truck route planning for logistics and transportation companies, including:
Gathering up-to-date information about the route, including pick-up and drop-off sites

Making pick-up and delivery routes easier to understand and follow to allow for faster and more accurate routing of trucks.

Calculating travel time between each location and optimal delivery

Ensuring there are relevant stakeholders to receive deliveries, especially during non-business hours

Catering for unforeseen circumstances like road closures, poor weather and staff absence
Fleet managers, logistics planners, suppliers and truck drivers must manage all of these factors to maximise the efficiency of their delivery service. 
Planning for Truck Routes and Other Related Considerations
Truck routing software
Truck routing software can help fleet managers map truck deliveries and plan driver routes more accurately and efficiently than a manual process. They often leverage computer-aided design (CAD) maps that assist with the planning and management of truck routes by providing a map-based visual representation of existing transportation infrastructure for real-time truck route planning. 
After fine-tuning the truck routing and optimisation settings, you can press a button, and the truck router will create and optimise your truck route according to your preferences. When using truck routing software, you can optimise a truck route in seconds. 
With some basic understanding of truck routing software, you can save time and money, ensuring the safety of your truck drivers and merchandise through more accurate, data-driven route planning.
Site Layout and Internal Circulation
Trucks require more space to manoeuvre and have different operational characteristics than cars, with additional needs related to roadway geometry. Trucks also involve various supporting facilities for which access and location are essential. In addition, interactions between trucks and multimodal users must be considered, particularly in high-volume usage areas. 
Fleet managers must identify site layout needs to adequately provide for site circulation where a significant number of trucks are anticipated. For example, the location of gates providing site access should be considered part of the site layout.
Special Characteristics of Trucks
Trucks have specific site layout needs, especially at locations expected to accommodate a substantial volume of trucks. For example, trucks have greater turning radii than other vehicles and require more space for turning manoeuvres. 
Wider lanes and a greater corner radius may be necessary to accommodate larger tractor trailers and other wide-bodied vehicles. Your drivers may require auxiliary lanes or additional storage length for these lanes to facilitate turns on and off safely.
Collaboration with road safety and regulatory bodies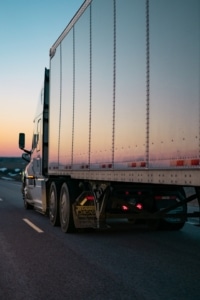 Fleet managers, logistics planners, and other trucking professionals should engage in regular strategy sessions (e.g., bi-monthly, quarterly) with relevant regulatory bodies to optimise safety, operational, and design issues for accommodating trucks on the roadway system.
Traffic police, road safety departments and other experts, are critical to the operational safety of the trucking industry and represent the best source of information regarding any upcoming or proposed changes to roadway design in your area.
Whenever your regional government proposes new developments affecting your trucking routes, you should review traffic impact studies to consider the proposed development's effects on the roadway system. 
It is encouraged that you prioritise collaborative discussion with trucking industry experts to make sure you consider the following design issues:
Turning radii

Intersection dimensions

Storage length

Driveway dimensions

Parking
A collaborative approach may help align access issues with context classification and improve site plans in freight loading zones and alternative access locations. The goal is to identify and understand factors affecting the driver's ability to successfully manoeuvre their vehicle in and out of the site and to their following location.
Additional Considerations
Innovative access management planning, such as indirect left-turn movements discussed earlier, and innovative interchange designs often need extensive signing. Transportation agencies should train maintenance personnel on the placement of these signs and should plan for the additional maintenance required to maintain them.
Where flexible delineator posts are used to separate traffic lanes, road maintenance replaces the posts more often if large truck volumes are present. Pavement markings tend to wear more quickly where there are large truck volumes, so more frequent restriping may be needed. 
Rutting pavement and pothole development are more common on roadways with heavy truck use. It is recommended to use reinforced pavement for turn lanes because of the added stresses caused by the deceleration of heavy loads and lateral forces resulting from turning trucks.
Time-consuming but cost-effective
Planning a truck route can be time-consuming, but it saves you money over time. You won't need to spend as much on the administrative time it would usually take to plan routes manually. 
You'll save money on fuel by planning your routes to help drivers avoid congested areas, so they won't spend as much time sitting in traffic. You'll also spend less on general vehicle maintenance, as vehicles will maintain their condition for longer by spending less time on the road.
Pro-tip: Hire the most qualified drivers.
Trucking is highly demanding, and you need highly-skilled drivers to work hand-in-hand with fleet managers and truck routing software to optimise your entire operation. Truck drivers are the lifeblood of your transportation network, so you need to invest time and resources into getting the best candidates for your organisation.
MASA is the top supplier for getting specialist drivers for your company in South Africa. Our nationwide reach allows us to deliver the best temporary drivers for hire to businesses of all sizes and in every corner of the country. Contact us to learn more about our drivers for hire and how you can gain an edge with specialist drivers on a temporary or permanent basis.