5 Tips for Recruitment During a Recession
Navigating the recruitment process in the midst of economic uncertainty doesn't have to be daunting. The COVID-19 pandemic has left many industries struggling, and a recession is on the horizon. Economic decline is one of the phases every business needs to go through in its life cycle.
A recession can prove to be one of the most challenging phases a business has to navigate. When your business is facing  an impending recession or expecting a potential economic downturn, it is always imperative to consider change and whether your recruitment process is suited to weather the storm.  
As a result of a possible recession, the recruitment landscape will look very different in the coming months. In this article, we discuss the 5 tips for recruitment during a recession period.
How to handle recruitment during a recession? 
Before we dive into the five tips for recruiting during a recession, let's look at three things you can ensure you have in order before tackling your new 'recession-proof' recruiting strategy.
1.Redefine your recruitment goals
During a recession, it is essential to redefine your recruitment goals. Instead of thinking about how many new employees you need to hire, focus on the productivity of your existing employees . This will help you save costs and ensure business profitability during difficult economic times.
2.Rethink your recruitment strategy 
Your recruitment strategy must be reconsidered when fewer people actively seek jobs. Instead of relying on job boards and newspaper ads, consider using social media and employee referral programs to reach a wider audience. You should also consider offering internships and apprenticeships to attract top talent.
3.Focus on retention
One of the most important things you can do during a recession is to focus on retaining your existing employees. Offer them training and development opportunities to improve their skills and become more valuable members of your team. You should also provide them with competitive salaries and benefits, making them less likely to look for new jobs when the economy improves.
A recession can be tough for businesses to navigate – but it doesn't have to be impossible to find top talent. Here are five tips for managing recruitment during a recession:
Plan Ahead
The first step is to plan ahead. Companies need to consider their staffing needs in the short-term and the long-term. Will there be a need to downsize? Or will the company be looking to expand despite the recession? Answering these questions will help determine the best course of action for recruiting during an economic downturn.
Get Creative with Resources
In a recession, budgets are often tight. This means that companies need to get creative with their resources. Social media, job boards, and other free or low-cost resources can reach talent. And don't forget about internal candidates! Promoting from within can be a great way to save money and still find the right fit for a position. 
Think Outside the Box
Regarding recruiting, thinking outside the box is more important than ever. Be open to hiring candidates with non-traditional backgrounds or experience. In a recession, businesses must be agile and adaptable, starting with the recruitment process. 
Be Flexible on Salary and Benefits
During a recession, salaries may need to be adjusted downward to stay competitive in the recruiting market. Companies should also consider being more flexible on their unique salary benefits and perks on offer. Offering telecommuting options, flexible hours, or other creative benefits will go a long way in attracting  top talent. 
Keep an Open Mind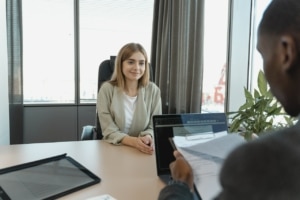 Last but not least, keeping an open mind during the recruiting process is essential. With so many businesses struggling, talented employees will be willing to take a reduction in salary  or make other sacrifices to secure their continued employment. Don't discount candidates because they don't fit your ideal profile – they may surprise you!
While recruiting in a recession is challenging, your wise actions now will be rewarded  with long-term success for you and your business. By focusing on the candidate experience and prioritizing quality over quantity, your recruiting strategy can weather the 'possible recession' and its associated economic effects.
Greys Recruitment Agency is a white-collar temporary and permanent recruitment specialist. We source the best candidates online through cutting-edge digital channels, SEO practices, and push and retrieval technology. Let us handle your recruitment in uncertain times. 
You can contact us to find out more about our specialist recruitment solutions.