Best Tips on How to Make a Good First Impression at Work
Starting a new job can be both exciting and nerve-wracking. You want to make a great impression and show your employer that they made the right choice in hiring you. However, the first day of work can be overwhelming, with new faces, new rules, and new responsibilities. To help you navigate your first day at work, we've put together the ultimate guide to surviving and thriving. We guide you on how to make a good first impression at work.
Prepare Ahead of Time
One of the best ways to ease your nerves and prepare for your first day at work is to do some research ahead of time. Learn as much as you can about the company, its culture, and its values. Familiarize yourself with the company's website, social media pages, and recent news articles.
You can also reach out to your employer or HR department to ask any questions you may have about your first day. Knowing what to expect can help you feel more confident and prepared.
Dress Appropriately
First impressions matter, so dressing appropriately for your first day at work is crucial. You want to show that you take the job seriously and respect the company's culture.
If you're unsure about the dress code, ask your employer or HR department for guidance. You can also do some research on the company's website or social media pages to see what employees typically wear.
Arrive Early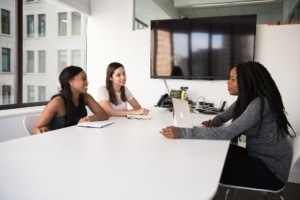 Arriving on time for your first day at work is essential, but it's even better to arrive a few minutes early. This will give you some extra time to get settled and mentally prepare for the day ahead.
If you're taking public transportation or driving, plan your route in advance and give yourself extra time in case of any delays or traffic.
Be Open-Minded and Positive
Your attitude on your first day at work can set the tone for the rest of your time at the company. Try to be open-minded, positive, and friendly to your new coworkers.
Smile, introduce yourself, and be receptive to feedback and guidance from your coworkers and supervisor. This will show that you're a team player and willing to learn.
Take Notes and Ask Questions
During your first day at work, you'll likely be bombarded with new information, rules, and procedures. To help you remember everything, take notes as you go.
You can also ask questions if you're unsure about anything. Your coworkers and supervisor will likely appreciate your eagerness to learn and your attention to detail.
Show Initiative
While it's important to take direction and guidance from your supervisor, showing initiative can also make a great impression. If you notice something that needs to be done, take the initiative to do it.
For example, if you notice that the office is running low on supplies, offer to order more. This will show that you're proactive and willing to go above and beyond.
Be Professional and Respectful
Throughout your first day at work, make sure to be professional and respectful to everyone you encounter. This includes your co-workers, supervisor, and any clients or customers you may interact with.
Be mindful of your tone of voice, body language, and language, and make sure to treat everyone with respect and kindness.
Follow Up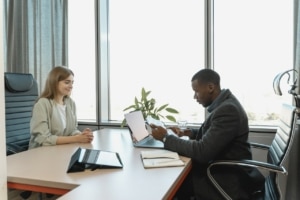 After your first day at work, take the time to follow up with your supervisor and coworkers. Thank them for their guidance and support and express your enthusiasm for the job.
You can also take this opportunity to ask any questions you may have or clarify any procedures or expectations.
In conclusion, surviving your first day at work can be challenging, but with the right mindset and preparation, you can make a great impression and set yourself up for success. Remember to prepare ahead of time, dress appropriately, arrive early, maintain a positive attitude, take notes, ask questions, show initiative, and be professional and respectful. By following these strategies, you can navigate your first day at work with confidence and make a lasting impression.
MASA supports career growth
At MASA, we understand the importance of starting a new job on the right foot. That's why we offer comprehensive staffing solutions and recruitment services to connect job seekers with their dream positions. Our team of experienced recruiters can guide you through the hiring process and provide valuable tips for succeeding in your new role.
With our extensive network of employers in South Africa, we have the inside knowledge on the expectations and culture of various companies. We can provide you with insights into the specific company you'll be joining, helping you tailor your approach to make an even stronger impression.
Our recruitment services South Africa go beyond just job placement. We believe in empowering job seekers with the tools they need to excel in their careers. From interview preparation to resume building, we offer a wide range of resources to support your professional growth.
Are you ready to thrive in your new job? Let MASA be your partner in success. Visit our website today to discover how our staffing solutions and recruitment services can support your career growth. Take the first step towards a rewarding professional journey by connecting with us. Together, we'll make sure your first day at work is the start of something extraordinary. Survive and thrive on your first day at work with MASA.