Managing the Perception of HR in the Workplace
The verdict is in: your organisation's HR (human resources) division is not a favourite amongst leadership and the rest of the workforce. This is a common issue we have identified, where CEOs, managers, and employees feel the current human resources solutions do not contribute effectively to the organisation.
Alternatively, you may be running a small to medium-sized business without the means to invest in building an HR department, to begin with, causing the human resources division of your company to be in disarray. A typical example of this problem is the CEO or business owner and multiple managers individually trying to address these HR issues in-house, increasing the frustration and stress for everyone involved. Could outsourced human resources solutions be of help here?
There is a lot to unpack in situations where your team is not happy with current HR processes or the HR Department is struggling with fulfilling the role of this critical business function efficiently. Despite this, there are some core perceptions that one can identify and work on to dramatically improve the experience of your employees and be more successful overall as a business. Let's explore the perception of HR in the workplace.
Hiring and firing squad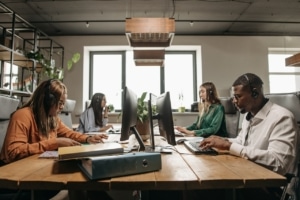 HR managers are often seen as the ones who do the hiring and firing, not for whose role it is to create a positive work environment that ensures everyone thrives in their positions. Employees usually dread being called to the HR office and many believe human resources solutions have little impact on their lives beyond the day they are employed or terminated.
However, this could not be further from the truth in a healthy work environment. The HR division is responsible for setting the standards and building the optimal environment for new employees while empowering CEOs and managers to run the company to the highest standards.
Maintaining the status quo can create a hostile work environment in companies with no HR specialist to handle recruitment, staffing, onboarding, training, termination and everything in between. Vital tasks like employee compensation and payroll compliance can also be neglected at the expense of company morale and eventually, profits.
The right human resources specialist can shape the corporate culture to support employees to achieve their highest levels of productivity and work satisfaction during their employment while ensuring that legal and regulatory compliance is not an afterthought but a core objective of the management team.
The HR focus is on retention, problem resolution, and helping staff to work at their best, not on making quick and easy cost-cutting decisions by terminating staff when surmountable issues arise. The 'hiring and firing' perception of HR is one that replaced with a more optimistic viewpoint in that HR's core function truthfully encourages harmony and cohesiveness in the workplace.
HR as a hindrance
It's surprising how many staff members see the HR department as an unwelcome obstacle that hinders their work or undermines their job satisfaction. Company leaders and the general workforce may identify multiple inadequacies in HR, such as:
Being obstructive to the day-to-day workflow of the organisation
Providing a poor and insufficient onboarding or training process
Unhelpful or unable to give consistent sound advice, and guidance on the company's HR strategies.
Lacking fundamental business knowledge and expertise within a specific industry
Inefficiencies performing core functions such as payroll and legal compliance
A general lack of specialised skills, experience and qualifications to navigate the company through the ever-evolving HR landscape
Failing to provide consistent high-quality service to leadership
These are all critical points that could impact an organisation's effectiveness and overall perception of HR. Not every HR division will have these issues, and it's up to each company to assess their HR team's expertise, qualifications, and ROI to identify areas for improvement.
Organisations without an HR division may also experience all of the issues listed above. Since there is no dedicated staff with the specialised HR skills and experience needed for driving success, these organisations may experience various hindrances caused by unqualified managers in this field taking over human resource management responsibilities.
Improving HR perceptions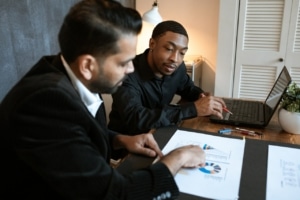 Despite the opposing viewpoints of HR, we have discussed above, improving the perceptions of the human resources department should be a high priority for employers. In most successful organisations, the human resources function is seen as a force for good, working to advance both employee and company goals.
What are the fundamental differences between these positive work environments and the opposing negative work environments? Simply put, more and more organisations see the value of expanding their human resources solutions beyond a strictly administrative function and more into relationship-building and strategic planning roles in line with company goals.
On the other hand, small to medium-sized companies are identifying the significance of a dedicated HR function for their growth. They are considering outsourced human resources solutions to bridge the employee-employer gap and empower all business operations to run at optimum.
Do you want to make the most of your HR initiatives, strengthen relationships with your staff and positively affect the company's bottom line? Below are two strategies you can consider implementing to improve your company's HR perceptions and boost the ROI of your human resources function.
Engage deeper with your employees
Ultimately, the people working in your organisation are precisely that – people. They want to feel engaged with, appreciated and respected by those who directly impact their work life. Your HR division and management cannot underestimate its vital role in creating a positive employee experience and providing empowering support for your company's leadership.
There are a few focus points for organisations to consider in this space, such as:
Encouraging a sense of ownership by aligning company leadership and individual employees' goals with company objectives and HR KPIs
Fostering a sense of inclusivity amongst your workforce with bottom-up HR strategies that leverage employee and management input and feedback
Increasing the levels of transparency throughout the business with open communication channels between HR, company leadership, and employees
Creating company specific policies and procedures that allow your HR division to develop a professional relationship with your management team and employees
Monitoring HR policies and procedures and implementing necessary changes as your company and the legal compliance world of HR evolves
Create HR-driven career planning and skills development programs for employees
The most effective employee engagement programmes motivate staff to contribute to the growth of their business. By creating an engaging, employee-focused framework, you can improve HR perceptions amongst your staff while increasing retention levels, improving productivity and cultivate a culture of employee satisfaction.
Consider outsourced human resources solutions
Many small and medium-sized businesses simply cannot afford to hire a human resources manager or establish their own HR division. Company managers who are generally not qualified in HR carry the added responsibility of addressing an overwhelming number of HR-related tasks and processes, which in turn costs the company valuable time and resources.
Human resources specialists can help these businesses by handling a wide range of administrative tasks, ensuring continuous regulatory compliance and offering strategic advice on various other HR related projects. This enables managers and business owners to focus on other vital tasks which adds to the growth and success of their organisations.
Outsourcing a portion or all of your HR functions is typically less expensive than hiring a full-time team member. A qualified human resources specialist can provide your company with expertise to ensure legal compliance, thus reducing the cost implications of any legal trouble.
Outsourced human resource solutions will allow your organisation to focus on functions under your direct control through strategic planning that improves the quality of your service while fostering a culture of cohesion within your in-house team
Elevate your perception of HR
If you want to experience world-class HR services that benefit your organisation, reach out to Measured Ability (MASA) today. MASA has provided outsourced industrial relations and human resources solutions to blue-chip multinational corporates across a wide range of industries for four decades.
We offer a full range of human resources solutions in South Africa and beyond, from HR strategy to payroll and all other HR processes. Your company can leverage a specialised HR strategy designed and managed by industry leaders to produce the desired results no matter the complexity or scale of the task.
We're ready to connect with you and deliver the HR service that takes your business to the next level!