Labour Staffing Best-Practices for Construction Companies
The construction industry has been on shaky ground for several years and was hard hit by the beginning phases of the pandemic, mainly since it was not categorised as an essential service before the lockdown on March 27, 2020.
Work on construction sites was suspended, except for construction services related to the health sector and urgent repairs and maintenance. Projects have gradually resumed with the economy's reopening, offering construction companies an opportunity to adapt their business models, diversify their output, and protect market share.
By focusing on labour staffing strategy, namely the ratio of employees to production, the potential reconstruction of some construction industry sectors will be able to regain their growth, allowing them to continue working in all industries.
At MASA, we have learned that although securing consistent business opportunities presents difficult obstacles, adequate labour staffing is undoubtedly a critical part of the journey if you are looking to survive and thrive in the future. Read this blog post to learn more about labour staffing for construction, plus a few tips and best practices that your construction company can leverage to stay ahead.
Staffing in the Construction Industry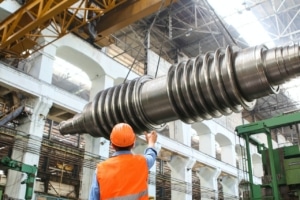 Understanding how to recruit labour staff is essential for any construction company looking to maintain or expand operations in the current economic environment. Whether you're looking for a construction superintendent, project manager, customer service representative, sales personnel, or supply chain professional, it's critical to have a comprehensive and cost-effective labour staffing strategy.
Furthermore, construction companies looking to hire in the current market face intense competition, increased wages, and a smaller talent pool due to the pandemic. This situation is also exacerbated by a severe lack of skilled construction workers at nearly all levels, which drives companies to outsource as much of their job functions as possible.
Forward-thinking construction companies are already partnering with labour outsourcing agencies with the tools and technology to appeal to an ever-expanding potential pool of employees whilst understanding the technological and social trends influencing them. The objective is to recruit and hire specialised construction managers, supervisors, engineers, HR specialists, and salespeople who can deal with this market situation.
Your construction company can implement multiple staffing tips and best practices to source, employ, train, onboard, and retain the talent you need. Let us explore them below!
Conduct a Labour Staffing Needs Assessment
As you explore new opportunities for staffing, it's essential to assess current hiring needs to determine if you have the people, processes, and systems to use the new workers efficiently. Planning for the future staffing needs of an organisation requires an analysis of many factors:
Prospects for future products or services

New product or service development

Anticipated customer or client demand

Competition (both global and local)

Changes in government regulations

Current and forecasted economic conditions
Analysing these factors will allow you to develop strategic goals for advancing your company, both now and in the future. The analysis will also help you identify the knowledge, skills, and abilities your staffing prospects should have, how many labour staff you will need, and when you will need them.
Both temporary and permanent staffing solutions from top labour brokers take a tailored approach. By conducting a detailed needs assessment (or getting an outsourcing partner to do one), you can effectively capitalise on any staffing endeavour by securing the right talent with the proper skill set and attributes that bring maximum value to your operations.
Create Compelling Job Descriptions
The next step is to create accurate and compelling job descriptions for the positions that need to be filled using your staffing needs assessment from the previous step. You can source higher-quality candidates for construction vacancies by using accurately defined job descriptions that clearly indicate the expected skill set and skills required for the positions.
The average labour-based job description will typically state:
The precise qualifications and certifications for the job

Whether the position is temporary or permanent

Typical backgrounds of candidates with the necessary training or experience
A critical detail for better job descriptions is outlining what you expect of the required construction staff and what they can expect of you as an employer. The trick to getting more relevant candidates in your recruitment process is always being clear about your requirements and positioning your organisation as a viable and attractive workplace.
Use Job Boards for Simple Hires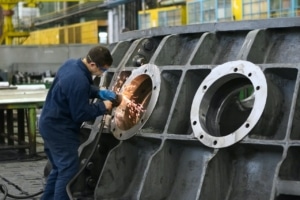 Maybe you have conducted your needs assessment and realised that you only need to hire for a general construction position, like an electrician, an estimator, or a carpenter. A construction job board may be the quickest and easiest way to source general labour from a pool of local candidates with relevant skill sets.
Some assert that job boards will become redundant as social media continues to grow. However, nobody can predict what may happen, and job boards are a significant part of the hiring market today for hiring construction workers.
Construction-specific job boards typically receive less traffic than general ones because they are less well-known. Their leads, however, are more successfully targeted and have a higher success rate. Posting ads on these niche job boards allow construction companies to find qualified construction workers more efficiently.
Build a Positive Employer Brand
Building a brand to attract skilled labour throughout construction hiring is just as vital as building one to attract customers. Consider this: you are not the only one hiring; you should give top talent a reason to choose your organisation over others.
There are multiple ways you can enhance and maximise your employer brand to meet the expectations of qualified construction staff that will bring maximum value to your operations:
Establish and promote values that show you care about your workers
One of the main issues in the construction sector and a priority that needs to be emphasised is safety. Putting your safety procedures on display is a powerful gesture and a great way to show how much you value your staff.
You can leverage social media to share your personal story, and the importance of your business and processes in ensuring your workforce is safe. Promote success stories and case studies from the workplace that showcase your worker-safety values in action. You can include how you prevent accidents and injuries through training, how you provide expert advice and support to workers if they are having issues, and how well your company has communicated with the broader community about safety.
Showcase career paths and growth opportunities
The old idea that all construction workers wear hard hats and don't earn much money is no longer valid. There are a growing number of opportunities for skilled labourers to advance their careers with the right company, and you will want to position yours as a place where they can achieve this growth.
Make sure to outline your career goals, then illustrate the training or education you offer to help construction staff reach those goals. Mentorship programs are an excellent way to build your profile with talented labour staff and create long-term relationships with them. These relationships begin in the staffing process, so make sure to incorporate the values of employee growth and longevity in your employer brand.
Construct Your Company's Future
Ultimately, every construction company's future depends on a commitment and dedication to building a productive, dedicated, and driven workforce that meets the company's current goals and aspirations.
Understanding your company's staffing needs and developing the most optimal strategy for achieving those goals is the most effective way to plan for future success. Developing job ads with compelling descriptions while leveraging effective marketing channels will boost a construction company's staffing efforts, especially if backed by a positive employer brand.
One of the most high-return ways to take action on these construction staffing tips and strategies is to partner with a top labour broker. MASA offers a personalised staffing solution in South Africa that we can tailor to your needs and optimise for your construction company to maximise its recruitment ROI.
Whether you run a construction company focused on general contracting, specialised trades or large-scale corporate refurbishments, MASA can partner with you to source the most suitable labour professionals for your vacancy. Get in touch with us to learn more about our solutions and how we can tailor them for your temporary or permanent staffing needs in South Africa and beyond.