Temporary Employment Services for Remote Workforces
In today's world, remote work is becoming increasingly common as technology makes it easier to stay connected and collaborate from anywhere. While this provides much flexibility and can be a great way to attract top talent, it can also present challenges when hiring and managing a dispersed workforce. That's where temporary employment services come in.
This blog explores how companies can use temporary employment services to hire and manage remote teams more effectively.
What are temporary employment services?
Temporary employment services providers, also known as temporary staffing agencies, provide businesses with access to temporary or contract workers who can fill various roles on a short-term basis. These agencies will help employers source, screen, hire and help manage temporary staff instead of hiring full-time employees.
This can be a beneficial solution for companies needing to fill essential white-collar roles or requiring specialised skills only temporary workers can provide. The flexibility of temporary employment services also makes them appealing to businesses that need to manage their temporary workforce more efficiently or want to reduce the risk of hiring permanent staff.
Types of remote workers
There are many different types of remote workers that companies can hire through temporary employment agencies. Some examples include:
Office support staff, such as administrative assistants, data entry clerks, and customer service representatives

IT professionals, such as software developers, data analysts and network administrators

Sales and marketing professionals, such as account executives and social media managers

Specialised professionals, such as graphic designers, writers and translators
By leveraging the resources and expertise of temporary employment agencies, companies can quickly and easily hire the remote workers they need to support their operations and achieve their business goals.
Why temporary employment for remote workforces?
Hiring flexibility with temporary employment services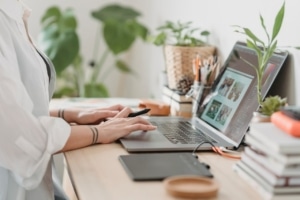 As mentioned above, one of the most significant advantages is flexibility. Businesses can bring on temporary workers without the commitment of hiring permanent employees. This can be especially useful for companies that need to scale up or down quickly in response to changing demand.
For example, technology companies often need to quickly add or reduce staff to meet the demands of developing and launching new products. It may seem like the best solution is to hire freelancers, but hiring temporary workers is often a better idea because temporary employment agencies can find, screen, and interview the best candidates for the job.
Furthermore, businesses that hire temporary workers will not have to worry about benefits and other overhead costs associated with long-term employees. Staff flexibility helps companies run more efficiently and strategically by letting them respond quickly and cheaply to changing business needs. 
A wider talent pool
Another benefit is access to a broader pool of talent. Temporary employment agencies can provide businesses access to a range of skilled workers available they may struggle to find through traditional hiring methods or freelance platforms. This can be particularly useful for companies in South Africa, where the unemployment rate is high and skilled workers may be in short supply.
Roles that require specialised skills, such as IT professionals, data analysts, and developers, can be filled quickly and with the right expertise. By taking advantage of the services provided by temporary employment agencies, businesses can save time and money that they would otherwise spend on costly recruitment processes.
Cost savings
One of the key benefits of using temporary employment services is cost savings. Because temporary workers can be paid by the hour or day rather than on a salary, businesses can save money by only paying for the hours or days the temporary workers are actually working. This can be especially useful for companies that experience fluctuations in demand. It allows them to adjust their staffing levels without incurring the costs associated with hiring and training permanent employees.
In addition, temporary employment agencies handle all of the HR and payroll responsibilities for the temporary workers they provide, which can save businesses time and money. This includes taxes, benefit administration and workers' compensation. By outsourcing these tasks to a temporary employment agency, businesses can focus on their core operations and avoid the costs and headaches associated with HR and payroll.
Challenges of hiring and managing remote workers
Hiring and managing remote workers can be a great way to access top talent and increase flexibility, but it can also present some challenges.
Communication and collaboration with temporary employment services
One of the biggest challenges is communication and collaboration. It can be more difficult to stay connected and coordinate with team members who are not physically present in the same location. This can be especially true for businesses in South Africa, where time zone differences may be a factor.
Companies using the remote work model can navigate this challenge by establishing clear communication protocols and using tools and technologies that facilitate collaboration. This may include video conferencing, messaging apps, and project management software. Employers should also set clear communication expectations and ensure that team members, including temporary workers, understand how and when to stay in touch. 
Productivity and accountability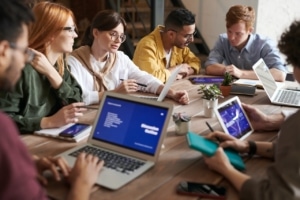 Another area for improvement in hiring and managing remote employees is ensuring productivity and accountability. It can be harder to monitor remote workers' progress and ensure they meet their deadlines and deliver quality work. This is especially true for businesses that are not used to managing remote teams. 
Companies can overcome this challenge by setting clear expectations for productivity and accountability and using practical tools and technologies to track progress and provide feedback. This may include project management software, time-tracking tools, and performance evaluation processes. Establishing clear lines of communication and providing the necessary support and guidance is a must for employers and managers. 
Businesses can effectively hire and manage remote workers by addressing these problems and implementing the right strategies and technologies. 
Tips for successfully managing a remote temporary workforce
So, how can businesses in South Africa successfully hire and manage a remote temporary workforce? Here are a few tips:
Clearly communicate expectations and responsibilities. Make sure that all team members, including temporary workers, understand what is expected of them and how their work fits into the business's overall goals.

Provide the necessary resources and support. Ensure temporary workers have access to the tools and resources they need to do their job effectively, such as a reliable internet connection and appropriate software.

Establish open lines of communication. Encourage team members to communicate regularly through video conferencing, messaging, or email. This can help build trust and ensure everyone is on the same page.

Use project management tools. Project management tools, such as Trello or Asana, can help businesses track progress, assign tasks, and ensure that everyone is up-to-date on their work.

Evaluate the agency's communication and support for both employers and employees. Look for an agency that is responsive and proactive in addressing any issues or concerns that may arise.

Consider the agency's reputation and track record. Look for an agency with a proven track record of successfully placing temporary workers in various industries. Check online reviews and ask for references to understand the agency's reputation.
Conclusion
In conclusion, temporary employment services can be a valuable resource for businesses in South Africa looking to hire and manage a remote workforce. Temporary employment services can help companies deal with the challenges of remote work and stay competitive in the global market by giving them flexibility, access to a broader talent pool and cost savings.
However, choosing a reputable temporary employment agency that can provide the support and resources needed to manage a remote temporary workforce successfully is essential. Businesses in South Africa can find the right temporary employment agency to meet their needs by researching, looking for experts in their field, and judging how well the agency communicates and helps.
Trust MASA for your remote team
MASA is a leading temporary employment agency in South Africa, providing businesses with tailored temporary employment services to meet their unique needs. Clients all over the country trust us because we have a solid reputation for successfully placing temporary workers in a wide range of industries for over four decades.
Whether you need skilled remote support staff or specialised professionals, MASA has the resources and expertise to help you find the right temporary workers to meet your needs. In addition, MASA's commitment to communication and support for both employers and employees sets them apart from other agencies, making them an excellent choice for businesses looking for temporary employment partners.
Contact us to learn more about the benefits of working with MASA and how we can help your business find the right temporary workers for your unique needs.