Upgrading Your Recruitment Services with Technology
In today's world, technology plays an integral role in the success of recruitment services. From automating time-consuming tasks to boosting communication, incorporating technology into your recruitment processes can offer various benefits.
Technology can streamline tedious tasks such as sourcing, screening, and tracking candidates, improving the recruitment process's efficiency and accuracy. Let's look at how technology has impacted recruitment services and how you can optimise your recruitment strategies with technology.
Benefits of incorporating technology into recruitment services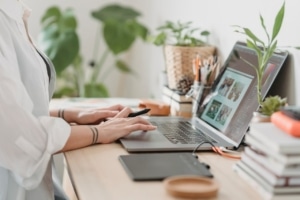 With the right technologies, you can quickly source and identify talent while reducing costs associated with manual labour and paperwork. For example, automated candidate screening processes can help to identify and qualify potential employees quickly and accurately. At the same time, online applicant tracking systems allow recruiters to manage large amounts of information, saving both time and money.
Additionally, by leveraging technology such as video conferencing, employers can quickly connect with potential candidates without arranging in-person meetings. Remote recruitment is becoming increasingly popular as it eliminates the costs associated with travel and allows employers to source candidates from a wider geographical area.
Technology also helps automate time-consuming tasks such as applicant tracking and data entry, which frees up resources for other jobs. When combined with data analytics, employers can quickly identify and prioritise the best candidates for their positions, avoiding needing to sift through hundreds of resumes manually.
Challenges of incorporating technology into recruitment services
Technology's complex nature means some challenges are associated with incorporating the latest tools and software into recruitment services. Let us take a closer look at these challenges and discuss potential solutions to address them.
Cost
One major challenge is the cost of implementation. Recruiting software often comes with hefty price tags that could be difficult for small businesses to cover. Furthermore, recruiting software needs to be regularly updated and maintained in the age of digitisation and high technology, which could further increase costs.
To combat this, organisations should look for cost-effective technology solutions that can provide the same results with a smaller financial budget. Tools that integrate many functions into one system are a great way to save money and manage multiple recruitment tasks simultaneously.
Companies can also partner with staffing and recruitment agencies to gain access to cutting-edge software and other services without paying significant upfront costs. A reputable staffing agency will work with organisations to create a customised solution that meets their recruitment needs, using technology that fits the budget and delivers results.
Security and privacy
Security and privacy concerns have also been raised because many recruiting software platforms store sensitive information about job applicants. Organisations need to ensure that their recruitment software meets all relevant security and privacy standards and safeguards the personal data of job applicants.
Companies must ensure that their recruiting software complies with data protection regulations, such as the Popia act, to ensure that candidates' personal information is adequately secured. Companies should also ensure that their data is secure and private by creating an internal security policy, investing in encryption technologies, and conducting regular security audits.
Integration
Lastly, integrating existing tools and processes into new technologies can be tricky and requires careful planning. Companies must ensure that their recruiting software is properly integrated into existing processes and systems, such as HR databases, to ensure that all the data remains secure and private. Integrating these systems can take time and effort. Still, if done correctly, it can give companies a robust recruiting strategy that will enable them to recruit the best talent more efficiently.
For example, integrating other systems, such as social media or a company's existing internal processes, can give companies the ability to reach out to prospective employees through various channels. This can be a powerful tool in helping to find and connect with the best talent quickly and efficiently.
Ease of use
Companies must also ensure that their recruiting software is designed to be user-friendly and accessible to all potential employees, regardless of technical ability. Tools like applicant tracking systems (ATS) should make the recruiting process easier for employers and potential employees alike while also providing valuable data and insights into the effectiveness of their recruiting strategies.
This is because a streamlined, user-friendly recruiting process provides a more positive experience for both the employer and job seeker and increases the chances of finding the best talent for the company.
Choosing the best technology for recruitment services
Popular examples of technologies used in recruitment services include:
Applicant tracking systems (ATS)
Video conferencing platforms like Zoom or Skype
Artificial intelligence (AI) tools that help streamline the hiring process by automatically filtering through resumes or offering interview advice based on input from past applicants.
How can companies and their recruitment partners make the most of these tools?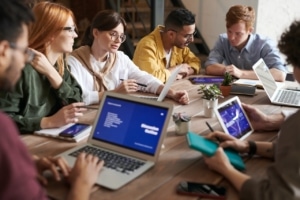 For starters, companies should ensure that their recruitment partners are well-versed in the available technologies and effectively leverage them. This means familiarising themselves with each system's various features and capabilities to ensure they are taking advantage of the most up-to-date technology.
Companies should also consider their specific recruitment needs and ensure that the technologies used are tailored to meet those needs. Evaluating current recruitment processes and practices can help companies identify areas where technology can streamline or enhance recruitment, resulting in significant cost savings.
Companies should ensure that their recruitment partners utilise a data-driven approach to recruitment. A data-driven approach allows companies to track, monitor and report on the progress of their recruitment process to understand which methods are working best.
This approach can also help identify and track areas of recruitment where companies may be missing out on potential candidates and ensure that their recruitment practices are optimised for maximum efficiency.
Conclusion
As we have seen, incorporating technology into your recruitment services offers numerous benefits but presents challenges – such as high implementation costs and security concerns. With careful research and implementation strategies, you can reap the rewards of using technology in your recruitment service offerings while minimising potential risks or pitfalls.
Technology can be an invaluable asset in successfully acquiring quality talent by allowing organisations to streamline their recruitment processes, manage large applicant pools efficiently, and present a more professional image. Using technology in recruitment services is a viable and beneficial option for any organisation looking to gain a competitive edge in the job market.
Partnering with a trusted and experienced recruitment agency is a great way to ensure that the risks are managed, and the rewards of your recruitment services are maximised. A recruitment agency can provide the expertise to help you navigate the industry's complexities and ensure that your organisation is leveraging technology for maximum efficiency.
The Measured Ability (MASA) group specialises in blue and white-collar staffing and recruitment services, providing a comprehensive range of permanent or temporary employment options. Visit MASA staffing solutions to learn more about our blue-collar staffing and labour broking services. You can also see Greys Recruitment Agency for cutting-edge white-collar recruitment. We are also available to connect with you directly, analyse your company's needs and develop a unique solution for your requirements. Contact us to get started today.