Navigating Performance-Based Hiring
Performance-based hiring has become an increasingly popular staffing solutions strategy for companies globally as employers look for ways to ensure they are getting the best employees. This type of hiring goes beyond a candidate's technical skills and years of experience. It focuses on job-related abilities and behaviours indicative of an individual's ability to succeed.
Performance-based hiring is a valuable strategy in today's world, where traditional resumes and interviews are no longer enough to assess the quality of a potential employee. Let's take a closer look at why performance-based hiring is so important and how businesses can use it effectively in their staffing solutions.
What is performance-based hiring?
Performance-based hiring is a method of assessing potential employees that goes far beyond their educational qualifications and technical experience. It seeks to uncover the motivation, drive, problem-solving abilities, flexibility and interpersonal skills of each candidate to get an accurate measure of how they work best, what motivates them and how effectively they will be able to achieve success for themselves as well as for your organisation.
Advantages of performance-based hiring in staffing solutions
By examining a person's abilities and accomplishments rather than just their CV, performance-based hiring gives employers a much better picture of who the candidate is and how they are likely to perform. As discussed below – this staffing strategy can also bring other advantages to a company's overall staffing solutions.
Improved performance
The primary advantage of performance-based hiring is improved employee performance. By selecting candidates based on their demonstrated ability to execute tasks effectively, employers can be sure they are selecting employees with the skills necessary to succeed in their roles.
Increased retention with staffing solutions
Performance-based hiring can increase employee retention because employers are likelier to retain employees whose performance is objectively measured. Companies that hire employees based on their demonstrated skills are more likely to find people who are a good fit for their organisation, which can lead to increased job satisfaction and loyalty – this in turn increases overall retention.
By ensuring that their hiring process is based on performance, employers can hire employees with the best skills for the job and can better retain them by rewarding and recognising their good performance.
Increased productivity
Additionally, performance-based hiring can increase productivity since employees can work more efficiently when they are well-suited for their roles. As a result, employers can expect better outcomes from their employees, who are more capable and motivated because they have been hired for their demonstrated skills. Bonus: How to Measure and Optimise Employee Productivity
Potential Challenges and Staffing Solutions
Difficulty finding suitable candidates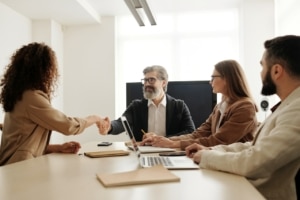 One potential challenge posed by performance-based hiring is finding qualified applicants with the technical and soft skills necessary for success in a particular role. To solve this problem, employers should consider utilising a variety of recruiting channels, such as online job boards, social media platforms and professional networks, to increase their chances of connecting with qualified applicants.
Companies can also partner with a staffing agency experienced with performance-based hiring and offering a tailored version of this strategy in their staffing solutions. Working with a staffing agency can help employers create an effective strategy that includes comprehensive screening and assessment processes to ensure they only bring qualified applicants into their organisation.
This screening process typically includes detailed background checks to verify a candidate's past performance through their references and work history, interviews to understand their personality and work style better and tests to gauge the applicant's cognitive and technical aptitude.
Staffing sollution agencies can also give companies more comprehensive candidate profiles based on performance metrics, relevant job qualifications, and access to a larger pool of candidates. By working with a staffing agency, employers can save time on the recruiting process and have greater confidence that they are selecting the best candidate for the job.
Lack of performance data
Additionally, employers may face difficulty accessing relevant performance data due to privacy laws or a lack of access. To overcome this issue, employers should consider partnering with third-party vendors specialising in aggregating and analysing large datasets to gather essential information about potential candidates. This performance data can be invaluable in assessing a candidate's fit for the role and ensuring that hiring decisions are based on the best possible information.
Employers must also ensure that their hiring processes comply with applicable privacy laws and regulations. Doing so will help protect the employer from legal challenges and assure potential employees that their privacy is being respected and valued.
Performance-Based Hiring Strategies
Define job staffing solutions responsibilities and expectations
To successfully implement a performance-based hiring strategy, business owners should carefully define job responsibilities and expectations before beginning the recruitment process. Doing so allows employers to target high-performing employees who meet specific criteria set forth by the employer.
Additionally, it can help narrow down a list of potential candidates who are more likely to succeed since job seekers are less likely to apply for positions that don't match their skills and qualifications and the outlined expectations.
Cast a wider net when looking into staffing solutions
As previously mentioned, employers must use various recruiting sources to cast a wide net when sourcing potential candidates for open positions. By relying on a combination of job boards, employee referral programs, social media recruitment, and other recruiting channels, employers can increase their chances of discovering the best talent for their open roles.
Assess candidate skills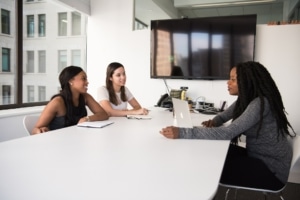 Finally, employers should assess soft skills alongside technical skills when evaluating applicants since these qualities often directly contribute to an individual's overall success on the job. Soft skills to assess include communication, problem-solving, collaboration, decision-making, critical thinking, creativity and the ability to adapt and learn. Employers can evaluate a candidate's skills by administering assessments or aptitude tests, as well as conducting reference checks and conducting interviews.
Interviews can be especially useful as they allow employers to assess how candidates might fit into a company's existing culture and provide an opportunity for them to answer questions about how their skills can help meet the organisation's objectives.
Additionally, employers can use job shadowing and on-the-job training to evaluate how candidates interact with others in the workplace. This allows employers to observe candidates' communication and problem-solving skills in real-world scenarios while determining how they would fit into the existing team dynamic.
Conclusion
Implementing a performance-based hiring strategy can bring numerous benefits, including improved employee performance, increased employee retention rates, and higher productivity levels.
While there may be some challenges associated with locating qualified individuals or accessing necessary data during the recruitment process, business owners can overcome these issues by utilising various sources during their search process or partnering with third-party vendors who specialise in collecting and analysing large datasets.
Lastly, setting clear expectations upfront and assessing both technical skill sets and soft skills throughout the recruitment process will help ensure the successful implementation of any performance-based hiring strategy deployed by business owners today.
Let MASA increase your company's performance
Implementing a new strategy into your staffing solutions can be daunting, but it may be essential to the success of your business. With the help of MASA, a staffing and recruitment agency specialising in performance-based hiring strategies, companies can find the most qualified candidates with the skill sets and abilities necessary to succeed.
Contact us to access our cutting-edge staffing solutions, a vast network of qualified candidates, and specialised recruitment staff experienced in all aspects of the hiring process.