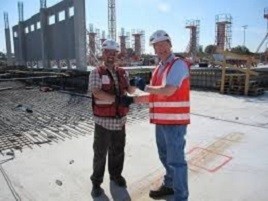 Labour broker definition
A labour broker (or Temporary Employment Service) is a person or company that provides labourers to client companies on a temporary basis. The workers work at the client company site, but are the employees of the labour broker, not the client.
This means that the labour broker is responsible for all the admin related to the employee, such as payroll, taxes, leave administration etc. For the employer it means greater flexibility, as extra labour can be brought in quickly when necessary, and removed from site when there is less work to do. This can greatly reduce costs and increase efficiency. It also means that any workers who are sick or away from work for any other reason can be quickly replaced so ensure there is always a full complement of staff.
The labour broker usually would do background checks, criminal record checks etc on their pool of labour, and makes sure that their workers are well trained. So instead of bringing in labourers off the street, by using a labour broker you can ensure you are getting hard working, reliable workers.
There is a misconception that labourers who work through labour brokers become the employee of the client company after three months. This is only true in terms of unfair dismissals. A worker employed through a labour broker for the same client company for more than 3 months has the same rights regarding unfair dismissal, and also should not be treated differently to permanent workers. If the worker feels they have been unfairly dismissed, than both the labour broker and the client company can be taken to CCMA and held jointly and severally liable.  However in all other respects, the labourer is still the employee of the labour broker, and the broker will deal with all admin, leave, payroll, etc. It is possible to hire temporary employees through a labour broker for periods longer than 3 months, as long as the duration of the contract can justifiably seen as being for a limited and definite period, or there is another justifiable reason for a fixed term contract. See our post on the new temporary employment laws for more details on this.
Looking for temporary unskilled work?
Are you unskilled or semi-skilled and looking for part time work through a labour broker? Western Star Outsourcing is a major temporary employment provider all over South Africa. If you would like to send us your CV please send it to the relevant branch by fax or email. See here for our branch contact details.
Looking to hire contingent labour?
Western Star can provide all kinds of blue collar labour on a temporary or permanent basis. We also offer white collar recruitment and offshore recruitment services through our other divisions. Contact us for more details.
https://measuredability.com/wp-content/uploads/2016/04/Construction-UAE-200x200.jpg
201
268
Gavin Stockden
https://measuredability.com/wp-content/uploads/2017/04/MASA-LOGO-FOR-WEB-WHITE-300x119.png
Gavin Stockden
2016-04-05 12:29:42
2019-09-16 19:59:45
What is a labour broker?